6 March 2017
The National Wild Dog Action Plan strategically assists communities in controlling wild dogs, encouraging local people to work together on wild dog control across the landscape. Through coordinated, best practice management, there are also benefits for the management of foxes, feral cats, and pigs.
Recent media has publicised a simplified message that dingoes control foxes and feral cats. However, there is no proof that dingoes reliably suppress populations of foxes or feral cats.
Feral cats threaten 142 species with extinction, foxes with 76 and feral pigs with 149. Wild-living dogs threaten 79 native species, ranging in size from marsupial moles to cassowaries. Some species are threatened by just one of these predators, while others face a mix. Their protection relies on best practice integrated vertebrate pest management.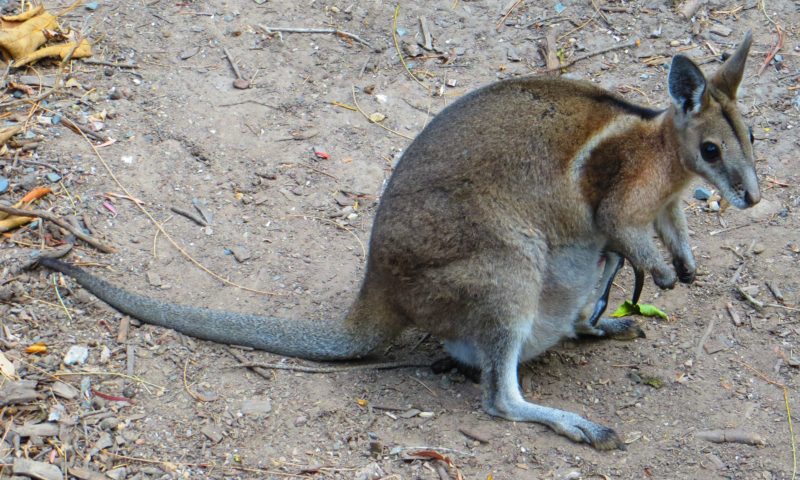 Wild-living dogs of all types (including dingoes, feral dogs or dog/dingo hybrids), will eat an array of prey including lizards, birds, and mammals of all sizes. They share some of this prey with foxes and feral cats. They hunt individually for small prey (such as lizards, rabbits and mice) and medium-sized prey (bridled-nail-tail, swamp wallabies, and sheep), or in packs for large prey (kangaroos and cattle). Failure to control each of the predators that act as a threatening process for a species will leave it at risk of extinction.
Wild-living dogs are adaptable and opportunistic when seeking their diet of native animals, livestock, carrion and even insects in desert, agricultural, forest, alpine or urban environments. The unpredictability is greater where humans have provided permanent water, movement corridors, food sources and protective cover. They can compete with foxes and feral cats for food.
People must be cautious with requests to use uncontrolled wild dog populations as a means of fox and feral cat control. If predation is the threat to wildlife in a landscape, then logic says that while we continue to gather ecological evidence, all three predators should be controlled.
There is also the risk of premature withdrawal of active fox and feral cat control programs. Public and private land managers might be attracted to short-term cost savings from concepts to use wild dogs to suppress foxes and feral cats.
The debate over methods for fox and feral cat control is clouded by opinions on conserving dingo purity; animal rights concerns about lethal control; injury and death of livestock; economic and mental health impacts on farmers; and threats to pet and human safety.
On a broad-scale, it would be counter-productive to undermine the community landscape-based approach to managing wildlife problems. Across Australia, communities are controlling wild dogs, foxes, feral cats and pigs in areas of environmental significance, in pastoral grazing country, sheep/cropping zones, high rainfall country, around urban areas, and in recreational areas. They participate to protect wildlife and to enhance the welfare of farmed livestock (from poultry to horses) and the well-being of people. Adopting the cautious approach, based on proof not concepts, will focus energies on the imminent danger to several hundred of our small native animals threatened by extinction.
*this article first appeared in the February 2017 edition of Landcare in Focus*