2 March 2017
Through the National Wild Dog Action Plan a project has been commissioned to identify national requirements and standards for those wishing to work as Pest Animal Controllers.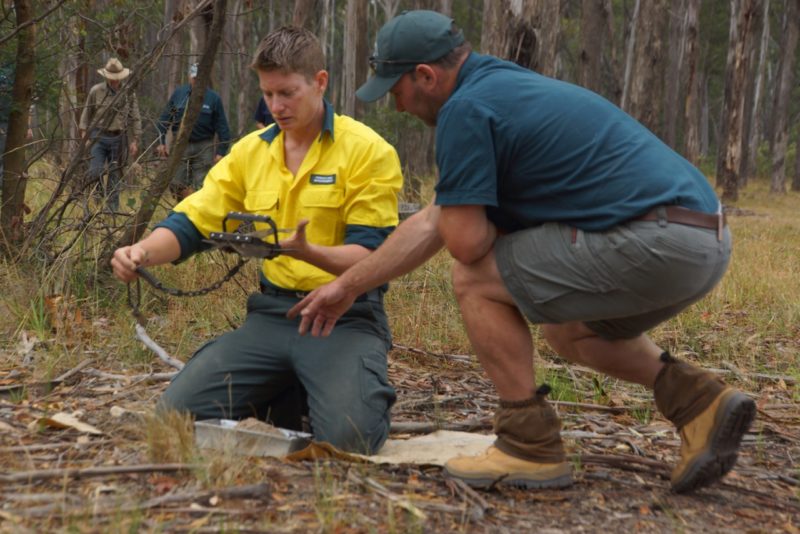 Three pilot training programs will be conducted throughout mainland Australia to provide individuals dealing with pest animals the confidence, knowledge and training required to quickly, efficiently, and humanely control, trap and dispose of problematic wild dogs in their region.
Wild dogs impose substantial costs on cattle, sheep and goat industries. It is conservatively estimated that they can cost between $44 and $66 million each year in livestock loss, disease transmission, and management costs. The social impact on communities and emotional distress of individuals due to wild dog attacks is just as significant. Wild dogs also predate upon native wildlife, another invasive pest hindering conservation efforts along with feral cats, pigs, and foxes.
The first training program was held in Kalimna West in the Gippsland region of Victoria during mid-February 2017, with a diverse range of participants, from primary producers, private pest controllers, state government rangers and pest management officers.
Training programs are also planned for NSW/QLD, and WA regions. This pilot program aims to create a pathway for a nationally recognised qualification in Pest Animal Control across the country.
The first program's training was led by Stuart Boyd-Law, whose twenty years of experience in wild dog control programs covers operations in over fifteen wild dog associations, National Parks and Wildlife Service and other agencies. Stuart was supported by Federation Training staff members Roger Bilney: Victorian specialist in ecology and animal behaviour and Gina Trotter, a teacher in Work Health Safety and Farm Chemical Training, and guest speaker Vaughn Kingston of the Victorian Department of Land, Water and Planning. Participants visited a property near Tambo Crossing, which provided valuable local context to the wild dog problems in Victoria.
The program includes extensive hands-on practice plus presentations on identifying wild dog sign and evaluating the impact of wild dogs on native animals, farm production and other stakeholders, tuning and setting traps and planning effective wild dog control programs.
Participants shared their own experience and built on their skills and knowledge thanks to the extensive background in pest control of the course presenters. Feedback collected was positive, with one participant explaining "I learnt so much in the program – from trap preparation, setting traps, identifying the signals of wild dog activity, and increased knowledge on the best-practice guidelines for wild dog management."